Christmas this year was a joyful celebration for our family. My wife and I have been married for twenty-seven years now and it's simply a gift to be celebrating another Christmas together.
But this year was precious for us. Keebler is sixteen and his health has been waning. My wife and I didn't think he'd make it to Christmas this year, given his ailing health. He has heart issues and an aging body that makes it hard for him to even get up off the floor these days. He's an old man for sure. My wife and I call it, "achey bone" syndrome…the point at which everything in the body just hurts all the time. Whether it's arthritis, sore joints, or regular muscle weakness, as a body ages…even with dogs…bodies become stiff, sore, and inflexible. But with Keebler now, it's more than just "achey bone" syndrome. He is rapidly diminishing in his health now.
I don't know what it is, but I *needed* to have another Christmas memory with my boy. He brings such joy and happiness to me. Call me selfish, but I made a decision to continue to keep  Keebler with us through the holidays this year while risking that he may not make it. It's not like I want to celebrate Christmas having to make a decision to put my friend down because of his failing health or to have an experience again like before with another adopted dog we had brought into the family.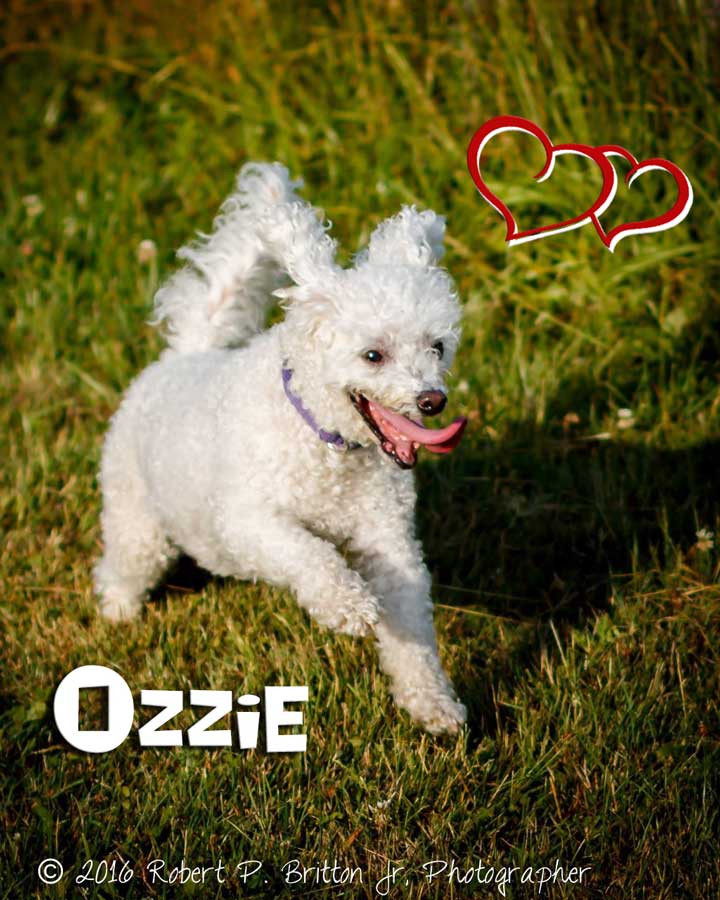 About four Christmases ago we had adopted a geriatric dog named Ozzie, an eleven-year old Bischon Frisé. A married couple at our church rescued Bischons from breeding farms. It was kind of their thing. We had met them through a service opportunity at our church one weekend. They were in need as a family and so my wife and I, along with our own little faith group had been to their house to help try to offer them a hand. They had many older rescues in their household.
It wasn't long after our service visit when the man of the house had a widow-maker and suddenly passed. The widow had health issues and couldn't take care of the rescues, so we came over and picked up Ozzie and gave him a home.

Keebler and Ozzie became best of buds. They were both easy going dogs, older in years, and settled in as brothers in our little family unit. Christmases together were a joy.
Ozzie, however, had an undiagnosed enlarged heart. We didn't know this. We loved taking the dogs for walks around our neighborhood. One winter night, as we left the house to go for a walk, Ozzie collapsed on the cold frozen lawn. He was panting and struggling to breathe and couldn't get up. We didn't know what to do. It was late at night, our usual veterinarian was closed. A quick Google showed that the only vet open was the Orchard Park Animal Hospital.
We rushed Ozzie over and they took him in back. About 30 minutes later, we were brought back to him where he was being cared for in one of the care units. He was on oxygen, struggling to breathe, but alert and with us. We could tell he was alert and recognized us and we offered soothing touches and words. But we understood we had a decision to make. It was a tough one. But when the vet said he had an enlarged heart and that he would not be getting better, we made the hard decision to put him down. We put our hands on him as the IV was administered and cried what seemed like endless tears as Ozzie went to doggie heaven.
Ozzie was a gift and a joy. We only had him for a couple years. But Keebler, who has been in our family for almost twelve years now, is also a gift. It was a blessing to have him with us for another Christmas this year. Given his health and condition, he's not likely to make it much longer.
As I think about Christmas, it's not the money spent that makes it special or the number of presents under the tree. It's love. Love of family and love of our four-legged friends who are sharing life's journey together with us…that is what is key.
I'm a struggling Christian. This world has gone bonkers. What is up is down. 1+1 equals GRAPEFRUIT. Far too many are struggling to simply survive all the craziness of life. As Christians, we learn and believe that what Christ says holds true: that there is a better place awaiting us if we believe in Him.
I CHOOSE to also believe that there's a better time coming when one day we can be united with the four-legged friends who've been a part of our lives, too. I know that it's not biblical in any way to think so. But it gives me peace of mind to think that one day we may be united with ALL of those we loved in this life.
It also gives me peace of mind to know that we had one last wonderful Christmas with Keebler and that he has shared the gift of his love and affection with us one last time. The smile on his face, the wag of his tail on Christmas morning as we sat in front of the tree together was beyond a precious moment for us all.
Christmas is a time for giving (and receiving) the gift of love…not just from family, but also from our four-legged friends. Both Ozzie and Keebler enjoyed celebrating the holidays together with my wife and I. Their memories are ingrained on our hearts and on our souls.
As you look to the New Year, I hope you take a moment and think about the blessing it is to share in the wonderful journeys with our families and our pets, whether dogs, cats, gerbils, or what have you. Life certainly has it's share of difficulties and challenges. But love, affection, friendship…even from our animal friends…helps us to experience a life worth living.
Consider reaching out a helping hand to someone around you. You never know the struggles they may be facing. A warm touch, a smile, a hug…that may simply be the most precious things YOU can give to someone in need this year. After all, our four-legged friends give us the gift of their affections without expectation. We should live up to their example and just be kind to one another.
Merry Christmas and Happy Holidays to you and yours!