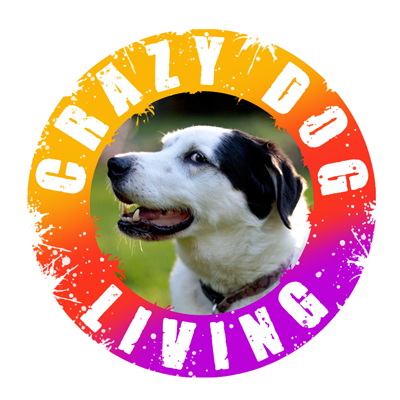 Crazy Dog Living was created to help inspire people to live life better.
Life is too short to be simply about existing or just going through the daily routines. From work, marriage, or school…there are so many things that can get in the way of truly living life with joy. And when fear and worry start to get in the way, we can find the joy just sucked out of the time we do have here on earth. Let's face it, the reality is that there is much that happens in our lives that can really bring us down.
We at Crazy Dog Living want you to consider living life BETTER. We call it . . .
The The Way of the Crazy Dog is, quite simply, a series of ideas about how to live life more like our four-legged canine friends do. Have you ever noticed how dogs live? They LIVE IN THE NOW and generally start each day anew, living only in the moment. There's no worry, no anxiety. They PLAY constantly. They forgive and forget, unlike humans. They are quick to give affection and love. They enjoy the company of others. They are foodies and enjoy a good meal and will jump through hoops for a scooby-snack. They don't need stuff, but enjoy even the simplest of possessions…a stick, a ball, a bandanna. There are so many lessons that we can learn from dogs.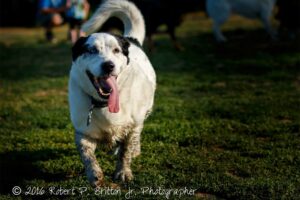 More than that, there is so much joy we can have from having dogs in our lives. From service dogs, therapy dogs, to just everyday family pets, our canine friends make our lives BETTER. They can lower blood pressure, help us to heal, give us comfort and help our mental health, and make us just make us laugh. Dogs help our wounded soldiers and those struggling with PTSD.
And just to be clear, we do understand that not all dogs are angels. There are those who think dogs are mean and cruel, or that there are certain breeds that are so. But recent science has begun to understand that this is not the case.  Dogs disposition is more of a case of their environment and context, often reflecting the nature of their human handlers more than that of their genetics.
But isn't that how we are as humans? Aren't we also impacted by our context, our environments, our parents and our upbringing? And don't we all, including dogs, strive and desire to be better than who we are, to be integrated into the pack and be valued, to live life in a way that is more than just about surviving in a challenging world?
As with humans, there are models of good behavior and not so good behavior. We here at Crazy Dog Living choose to find the best examples of how to live life from the lessons learned in our own experiences walking, playing, living, and loving our canine friends. We believe these lessons are just as important in helping all of us become better than we are, to live life better than we have been.
Feel free to look around. There are stories here that may help you put a smile on your face as well as resources that may help you to reflect upon your own approach to daily living. Who knows…perhaps you'll find something here that may lead you to a new way of striving for joy in your daily living.
— Bubba the Dog Whisperer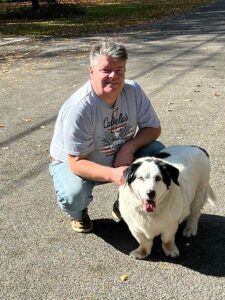 PS. No, I'm not really a Dog Whisperer or trainer. I'm just an average Joe who's grown up with dogs all my life. My wife likes to say that I've never met a dog I didn't like or that didn't like me. As we walk in our neighborhood here in Western New York, it brings joy to me to be able to share Keebler, our current four-legged family member, with others, and to share in the joy of meeting and getting to know our neighbors and their four-legged friends.
Truthfully, as a man who has had a difficult life, Keebler (and my previous doggie kiddos) have provided me with so much. I have my own life struggles with stress, anxiety, and other emotional challenges, and each of our four-legged children has provided much in the way of service and emotional help as I've walked in my own life to date. I could not imagine living life without the joy and the companionship of canine friends.
We found Keebler at Joyful Rescues here in NY and we can't recommend this rescue organization enough. But there are many places one can find a great canine companion, from local shelters to SPCAs. Life is lived better with a canine friend and we encourage you to consider adopting a life-long companion or supporting organizations who help match dogs with forever homes.